Applications:
1. With hydraulic automatic feeding device, elevated drilling efficiency.
2. The holding mechanism with upper spherical jaws is used as substitute for chuck. The rod can be replaced without shutdown.
3. Centralized handles, easy operation, safe and reliable.
4. The drilling machine, pump and diesel engine are installed on a common base frame in order to have a compact structure and occupy small field area.
5 lightweight, high detachability, easy transportation and suitable for the operations in plains or mountain areas..
Technical Specifications

Drill

Drilling depth

100m

Drill rod dia

42mm

Initial hole dia

110mm

Final hole dia

75mm

Angle range

90°-75°

Dimensions(L×W×H)

1640×1030×1440 (mm)

Weight(without power unit)

500kg

Swivel Head

Spindle speed(3-speed)

142/285/570 r/min

Spindle stroke

450mm

upward displacement speed of idling vertical spindle

0.05m/s

Downward displacement speed of idling vertical spindle

0.067m/s

Spindle pull-down max

15KN

Spindle lifting capacity max

25KN

Hoist

Max .lifting capacity(1-speed,single rope)

10KN

Cable volume (number) of hoisting drum

27m

Wire rope dia

9.3mm

Mud Pump

Model

Horizontal reciprocating single-acting piston pump

Displacement max

 

Equipped with diesel engine

95L/min

Equipped with moto

77L/mm

Allowable working pressure max

1.2Mpa

Continuous working pressure

0.7Mpa

Suction pipe dia

32mm

Discharge pipe dia

25mm
We can also mount a trailer chassis or crawler chassis on the rig as following pictures: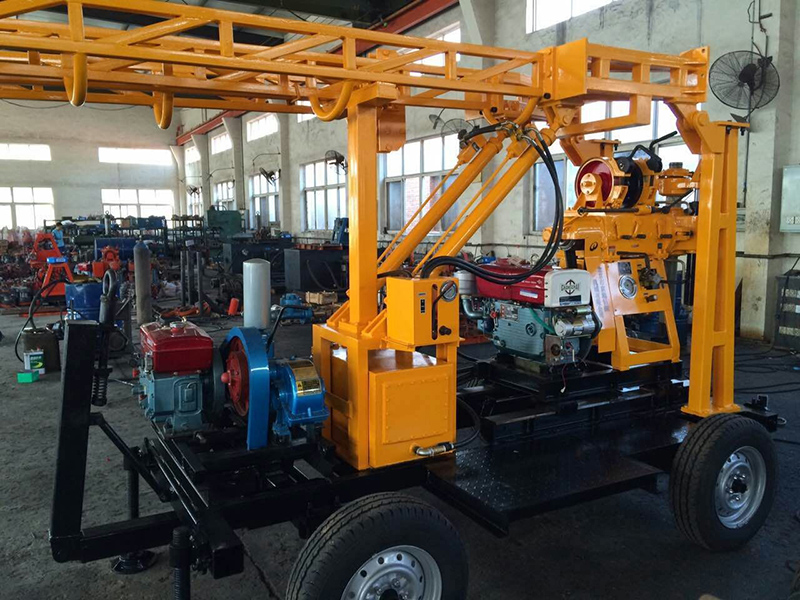 (Trailer type)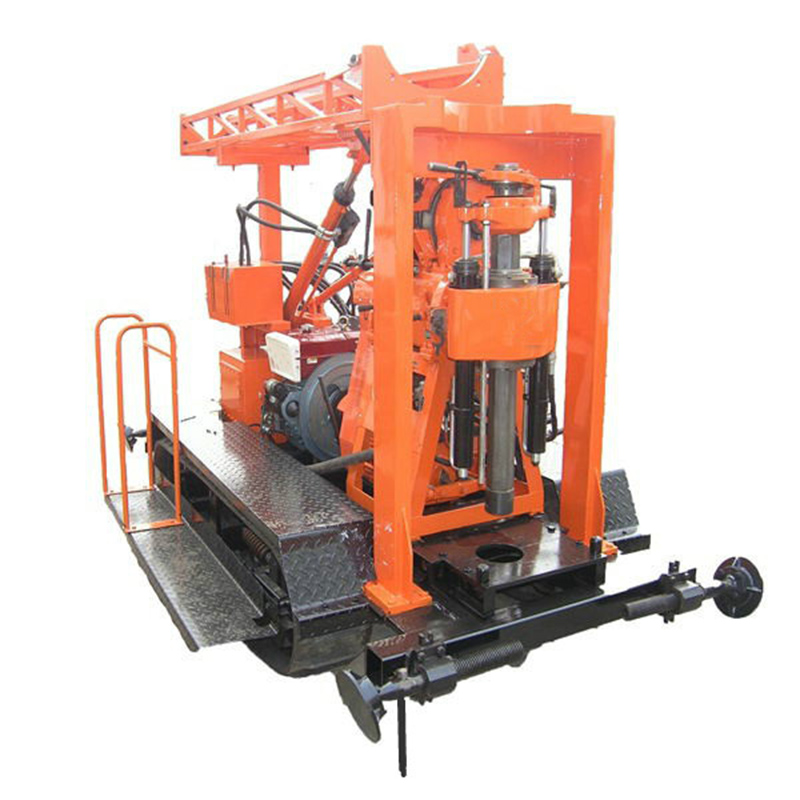 (Crawler Type)
Glorytek Industry (Beijing) Co., Ltd.
Tel: +86-15530335790
Website: www.fuuww.com
E-mail: sales@glorytekdrill.com
Add:No.3 Long Road Economic Development Zone, Hebei Province
Glorytek Industry (Factory)Co., Ltd.
Glorytek Industry (Perth WA, Australia)Co., Ltd
Glorytek Corporation Limited (Hongkong)
.
Tel: +61 4 389 289 17
Website: www.fuuww.com
E-mail: sales@glorytekdrill.com
Add:4/105 Gladstone Rd, Rivervale, WA, Australia
Fax: +86-10-52037270
Tel: +86-10-52864265/52864786
Website: www.fuuww.com
E-mail: sales@glorytekdrill.com
Add:No.B-2507, DongWeiCheng, GuanZhuang, Chao Yang District, Beijing 100024, P.R.China